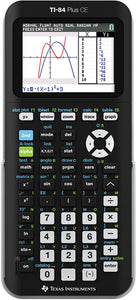 TI-84 Plus CE graphing calculator
Familiar TI-84 Plus functionality in a sleek new design that features a crisp color screen.
Surprisingly slimmer. Lots lighter. Totally TI-84 Plus
Key features
30% lighter and thinner than earlier generation TI-84 Plus models
Vibrant backlit color screen
TI Rechargeable Battery
Available in a variety of fun colors
Preloaded apps and images
MathPrint™ feature
Captivating color. Optimal display
Visualize concepts clearly and make faster, stronger connections between equations, data and graphs in full color.
Enhanced screen readability with high-resolution, backlit display
Distinguish between multiple graphs and plots with color-coded equations, plots and objects
Make graphs easier to read by adding grid lines
Approved for exams
The TI-84 Plus CE is approved for use on the following exams:
PSAT®, SAT®, and ACT® college entrance exams
AP® exams that allow or require a graphing calculator
Approved for use on the IB® Diploma Programme exam
SAT® and AP® are trademarks registered by the College Board. PSAT® is a registered trademark of the College Board and the National Merit Scholarship Corporation. ACT is a registered trademark of ACT, Inc. IB is a registered trademark owned by the International Baccalaureate Organization. None are affiliated with, nor endorse, TI products. Policies subject to change. Visit www.collegeboard.org, www.act.org and www.ibo.org.