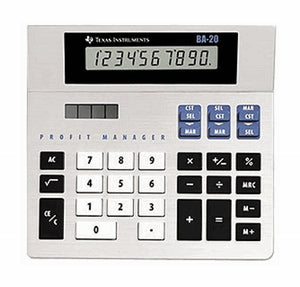 BA 20 Profit Manager Financial Calculator
Simply the most convenient, accurate way to perform cost-sell-margin calculations.
Key features
Preprogrammed functions solve cost-sell-margin problems; enter any two variables and the third appears instantly.
Automatic constant quickly performs repetitive calculations.
Percent key speeds computation of add-ons and discounts.
Solar power allows operation even in low light.
Large keyboard makes it deal for desktop or portable use.