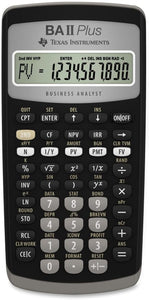 BA II Plus Financial Calculator
Useful in finance, accounting, economics, banking, real estate, sales, statistics, investments, marketing and business management.
Key features
Time-Value-of-Money (TVM) calculations
Amortization schedules
Cash-flow analysis, Net Present Value (NPV) and Internal Rate of Return (IRR)
Depreciation with four different methodologies
Breakeven, profit and percent difference calculations
Second key feature to calculate terms fast
Exam acceptance
The BA II Plus™ calculator is approved for use on the following professional exams:
Chartered Financial Analyst®* exam
GARP® Financial Risk Manager (FRM®)† exam
Certified Management Accountants®‡ exam
Feature highlights
Easy-to-read, 10-digit display
Prompted display shows current variable label and values.
Calculate IRR and NPV for cash-flow analysis
Store up to 24 uneven cash flows with up to four-digit frequencies; edit inputs to analyze the impact of changes in variables.
Time-value-of-money function
Quickly solve calculations for annuities, loans, mortgages, leases and savings.
Depreciation schedules
Choose from six methods for calculating depreciation, book value and remaining depreciable amount.
Interest rate conversions
Convert between annual (nominal) and effective interest rates.
Ideal for
Accounting
Economics
Finance
Marketing
Mathematics
Real Estate
Science
Statistics
*Chartered Financial Analyst® is a trademark owned by CFA Institute.
†GARP® and FRM® are trademarks owned by Global Association of Risk Professionals, Inc.
‡CMA® is a registered trademark of the Institute of Certified Management Accountants, Inc.
None are affiliated with or endorse TI products.